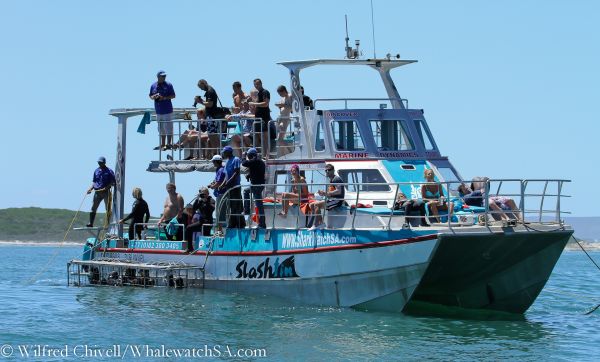 Marine Dynamics is a shark cage diving company located in Kleinbaai, Western Cape near Gansbaai. It is our mission to replace fiction with fact about sharks by engaging with them as they are naturally- cool, calm, collected, and calculated. As the apex predator of the sea, sharks command our respect, NOT FEAR!
Slashfin, our purpose-built cage-diving vessel, is the most modern vessel launched in 2010. The premier safety and comfort on board have set new standards in the cage-diving industry. Safety is our top priority and we spare no expense. Marine Dynamics supports critically important research on white sharks as well as many other species in Gansbaai. Only through understanding can you educate, and only through education can we conserve – and that is our motto, "Discover & Protect!" Whether cage diving is on the top of your bucket list, part of a life-long passion for sharks, or you seek to further protect them – Marine Dynamics is the only company that can provide the best experience for everyone!
Rates:
Per Adult – R1750.00
Per Kid (Under 12) – R1000.00
Per Kid (Under 5) – Free
Return Transport, pp (Cape Town) – R450.00
Return Transport, pp (Hermanus) – R300.00
Included in the rate: Breakfast/Lunch, Wetsuits and towels, waterproof/windproof jackets, snaks on board. Why should you choose Marine Dynamics:
We are an award winning eco-tourism enterprise ready to rock your boat in more than one way!
Our custom designed purpose-built boat is the only one of its kind in the industry and offers the best in speed, comfort, safety and experience
The crew have unrivalled experience and expertise with a dedicated Marine Biologists on every  trip giving you one-of-a-kind  research-based knowledge on the Great White
The boat has designated toilets for men and women; a canvass dressing cubicle for extra privacy; light lunches, snacks and drinks are available on board; a double staircase for easy access to the top deck
The spacious top deck offers great, unobstructed viewing and a unique photographic platform
The best hosting facilities with secure parking, free wifi, restaurant, coffee shop, gift shop, relaxing garden, bathrooms with hot showers.
All diving equipment is provided and clients are guaranteed of clean, dry wetsuits and towels.
Our investment into the research and conservation of the great white shark is unparalleled and crucial to our knowledge, understanding and protection of this valuable species.
Professional videographer with over 8 years experience captures every heart-racing moment – if you book online you get your video for FREE!
BECAUSE YOUR CHOICE MAKES A DIFFERENCE!
Region: Western Cape
Address: 5 Geelbek Street, Gansbaai, Western Cape, South Africa, 7220
Telephone: +27823803405